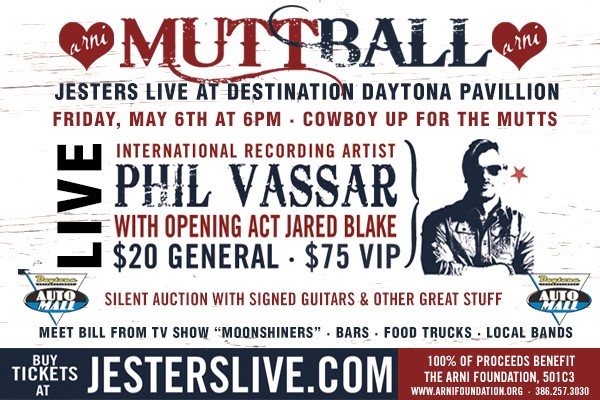 Animal welfare is a cause we take very seriously at Daytona Auto Mall. The ARNI (Animal Rescue Need & Intervention) Foundation, a 501(C)3 no-kill-animal shelter that operates entirely on donations, has been serving the four-legged members of our community since 1999. We're proud to support the Foundation's ongoing work with the upcoming "Mutt Ball," featuring national recording artist Phil Vassar, on May 6, 2016.
The event will be held at the Jesters Live Pavilion at Destination Daytona. MCs Frank and Tracy from 104.7 The Rock of Daytona will lead the festivities, which include:
Food Truck rodeo
Live local acts
Craft beer from Ormond Brewery
Whiskey and moonshine bars
Signed guitar auction
Phil Vassar, the hit country music artist, will headline the main event at 8pm. Tickets are available online at http://jesterslive.com/ and start at only $20. VIP tickets are also available for $75. 100 percent of proceeds will benefit the ARNI Foundation.
The foundation has rescued more than 20,000 animals over the course of its history, including rescuing and transporting dogs from Sochi, Russia and over 100 animals combined from Superstorm Sandy and Hurricane Katrina. The ARNI Foundation shelter houses about 100 animals at any given time and helps place about the same number of animals in loving homes each month.
We hope you'll consider supporting the foundation's important mission by purchasing a ticket, donating online at http://www.arnifoundation.org/donate/, or buying from the ARNI Says webshop. Every dollar makes a difference.